Suzuki GSX-R 750 W 1994 Tourmax Front Calliper Repair Kit (Pair)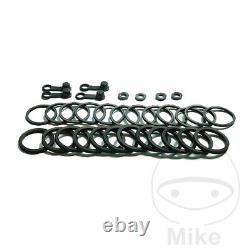 Tourmax Overhaul Service / Repair Kit for Front Callipers (Pair). Tourmax is renowned world-wide for its level of quality motorcycle parts that meet or exceed OEM standards of excellence. Manufactured in Japan their vast range has been researched and developed by highly skilled professionals with more than 25 years experience.
Their reputation for quality alone has catapulted them into global market leaders with a large following of very happy customers. Kit contains all seals and bleed nipple covers pictured to service both front callipers.
Meet or exceeds OEM standards. If we have any problems with your order, we will let you know as soon as possible.
Independent UK Business passionate about motorcycles and providing outstanding customer service. We post directly from our UK address.
Fast and helpful customer service. High quality spares & parts at affordable prices.