BAER BRAKES Complete Front Brake System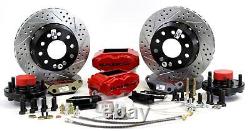 Since 2002 AMCO Auto Parts, LLC has been striving to supply and support car enthusiasts around the world with the products and service they deserve. With the economy the way it is we understand how important pricing is.
Here at AMCO Auto Parts, LLC our car parts are some of the lowest prices around. With that in mind you will not lose quality. We offer auto car and truck parts from nearly 150 manufacturers. These companies are some of the most highly regarded in the automotive industry today. Our highly skilled staff is ready to answer any of your questions.
Should you have any question, please message us! We would like to thank our new and existing customers for their trust and support in our.