65-73 Mustang 13x1.25 Front Disc Brake System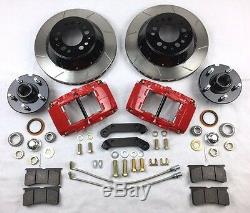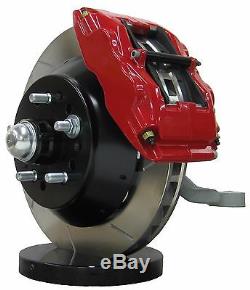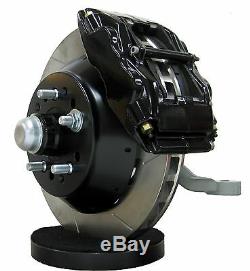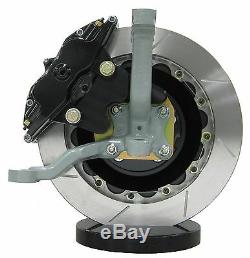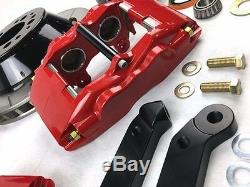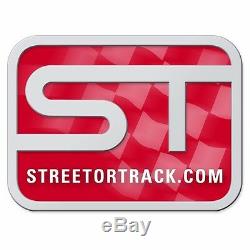 13x1.25 Rotor 4 Piston Forged Aluminum Caliper Brake System Disc brake conversion kit for 1964-73 Mustangs and other Fords. Available for 65-73 DRUM, 68-73 DISC & 75-80 Granada spindles. Offering maximum performance this system is a must for serious street machines and high horsepower track cars.
Utilizing a deeper hat offset this system is a direct bolt on to 65-73 DRUM, 68-73 DISC (OEM & TCP Spindle) & 75-80 Granada spindles. No wheel spacers are required to fit a Torq Thrust II or a Vintage Wheel Works 17x8 style wheel. This complete'turn-key' brake system offers the highest level of performance available. Using heavy duty directional vane 13 x 1.25 rotors mounted to an aluminum hat this system offers great weight savings and exceptional cooling.
Stress flow forged aluminum calipers with 4 stainless steel pistons accept. 800 thick pads in a variety of compounds. Watch as we go over a few details on our 13 x 1.25 brake system, then watch how simple the installation is. Please download and use the wheel fitment template. 2 x Forged aluminum 4 piston calipers, powder coated bright red or gloss black. 2 x Hubs fitted with bearing races and standard length wheel studs (so you can use closed end lug nuts). 3 long ARP studs and open ended lug nuts also available. 2 x Hub centric adapter shims.
2 x Billet spindle/caliper mounting brackets. CAD designed and CNC machined. 2 x Timken inner bearings.
2 x Timken outer bearings. 2 x Timken inner dust seals. 2 x Stainless steel braided brake hoses complete with all adapters to connect to caliper and stock hard lines. 2 x Castle nuts (70-73 spindles use nut and castle style nut retainer). Grade 8 bolts and all the hardware to install the kit.
ARP 3 long wheel studs. All kits are custom built to your exact specifications. Fits some 16" and most 17" & larger wheels - please use template shown above. Stress flow forged from premium grade aluminum alloy billets. This process re-aligns the metals internal grain structure to flow within the contour of the caliper body.
This process eliminates the stresses and interruptions to the internal grain structure that occur when machining a straight block. This results in a stronger and stiffer caliper. Continuing the performance trend of this system, this caliper uses a huge pad. Each pad is 0.800 thick, has an area of 8.2 square inches and a volume of 4.9 cubic inches.
That is almost as thick as a stock Mustang rotor! Thick pads not only last a long time, they offer insulation from the heat of the rotor transmitting to the pistons and ultimately the fluid.
Pad changes are super easy, simply remove the center bridge bolt and pull out the pads. Medium friction, smooth engagement, low abrasion. Maintains a coefficient of friction between. 40 from cold peaking at.
Beds quickly and provides fast response without excessive abrasion. High friction, smooth initial response, low wear rate. Medium to high friction with good cold response. Long wearing pad in the middle temperature ranges with only moderate wear in sustained high heat conditions. Peak coefficient of friction of.
63 is reached at only 400F degrees and is almost flat all the way to 1300F degrees. Powder coated bright red or gloss black - other custom colors available. Each caliper is equipped with replaceable stainless steel bridge plates.
These plates eliminate the bridge wear caused by pad gouging and extend the service life of the caliper body. The spring-loading action of the plates also eliminates pad rattle and dampens the vibration harmonics that contribute to squeal under braking. Other standard features include high-temperature, square faced o-ring seals for positive sealing, controlled piston retraction, and long service life in high heat conditions.
Stainless steel pistons are used to resist corrosion and retard heat transfer from the pads. Two-piece bleed screw assemblies provide long, reliable service life and are easily replaced if necessary. Caliper is mounted rearward of the spindle upright (trailing). This position makes routing brake duct hose in from the front of the car super easy. Fully assembled caliper with pads weighs 7.2lbs.
Heavy Duty 2 Piece mounted to CNC machined billet aluminum hat. Plain or Gas vented slots. We use only quality, heavy duty castings cast and machined in North America.
Many cheaper'offshore' rotors are poorly cast and may contain inferior materials and air pockets. Why use such a large rotor? The friction created by braking creates heat and the more and harder you brake the more heat is generated. All that heat has to go somewhere and if the'heat-sink' (rotor) gets so hot it can no longer absorb and shed heat then the heat will conduct and convect to other components. These other components will include brake fluid and wheel bearings, not places you want increased heat.
The problem with large rotors is weight. All that weight is unsprung which will affect suspension performance and increase stopping distances. The rotor we use in this kit provides the best of both worlds. Increased thermal mass due to its diameter and thickness yet lighter weight when mounted to an aluminum hat. Maximizing the size of the aluminum hat and minimizing the iron rotor ring to only the pad swept area reduces the weight of the entire rotor/hat assembly to only 15lbs per side.
That is 3lbs lighter than our 13x1.1 one piece rotor. The wide air gap of this rotor promotes more airflow and sheds massive amounts of heat keeping brake temperatures in check. Meticulous attention to detail and advanced computer modeling techniques ensure perfect fit. Our brackets are custom CAD designed, CNC machined, then plated for corrosion protection. The item "65-73 Mustang 13x1.25 Front Disc Brake System" is in sale since Sunday, March 4, 2018.
This item is in the category "eBay Motors\Parts & Accessories\Vintage Car & Truck Parts\Brakes". The seller is "streetortrack" and is located in West Bloomfield, Michigan. This item can be shipped worldwide.
Manufacturer Part Number: ST13X125-2PC-4P-ALUM
Placement on Vehicle: Front
Part Brand: Street or Track